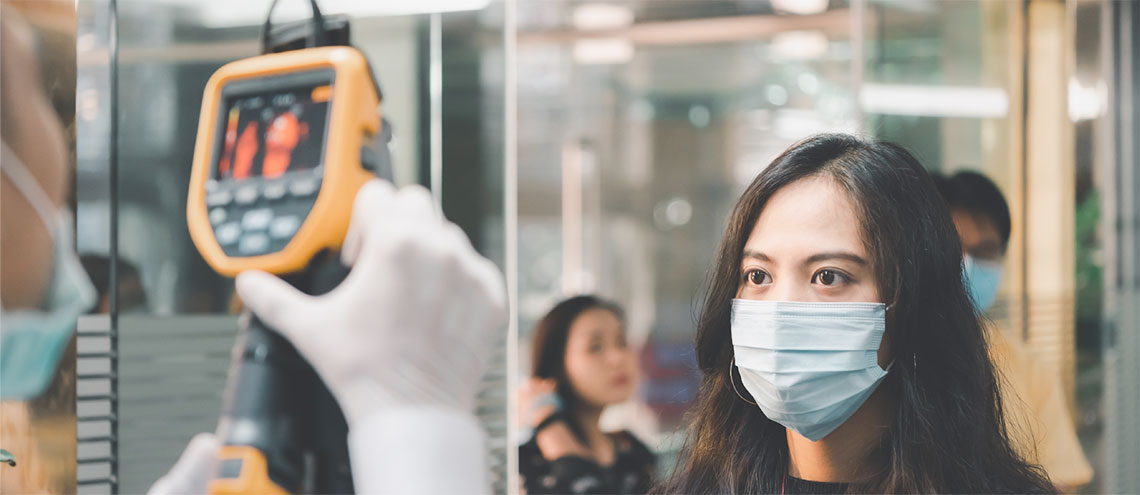 Why temperature scanning?
First, let's dive into why temperature screening has become so important. Fevers are one of the few detectable symptoms of COVID-19. In a recent survey, the CDC discovered 80% of people infected with COVID-19 had a fever. This makes temperature screening one measure that businesses can take to identify people who may be infected and slow the spread of the virus.
But temperature screening alone isn't the answer. It should be one part of a more comprehensive plan to keep your employees and visitors safe. Other key protocols to safeguard your team include contact tracing, social distancing, and wearing a mask.
We offer two types of temperature screening solutions.
Digital thermometers Phoenix provides screeners to greet employees, contractors, patients, and visitors. These screeners use a hand held non-touch forehead thermometer to take temperatures of all individuals entering your facility. Anyone who has a temperature of over 100.4 is not allowed to enter. Screeners also ask a series of questions to make sure that all your COVID-19 protocols are being followed.
Thermal cameras A non-contact measurement to avoid physical contact that has been applied widely in temperature screening scenarios. This offers more flexibility, and the technology only detects human skin-surface temperature to reduce false alarms of other heat sources. This option can be deployed quickly and used in building entrances, elevator halls, airport security checks, etc.